Portal Alameda
Vertical Densification, Architecture
2015-02
Status Quo The skyscraper Portal Alameda is located at the intersection of the three mainroads Ruta 68,connecting Santiago de Chile and the Pacific, Via Maipú, which accesses the biggest working class neighborhood of Santiago, and Alameda, the main axis of the city. Smaller byroads are inconveniently connected to the mainroad.
The building should link the two already existing green areas of the idle park Pajaritos and abandoned, ramshackeled area besides the Rua 68 to revitalise the location.At the moment, chaos dominates the site especially during rushhour as the shunting of long distance and municipal buses at the transport pole Pajaritos (subway, taxi, buses, airportshuttle) add to the genereal individual transport. Pajaritos is a cold and unwelcoming transit site which does not invite to stay altough exactly there are distinctive people encountering eacht other. Fast food restaurants provide the traffic participants.






Distribution of Infrastructure
After taking a look at the overall structure of Santiago it became apparent that essential components of public infrastructure are distributed unequally along the East-West-Axis of Alameda favouring the wealthy East. There are a lot of hospitals, universities and green spaces located in the East leaving the Western part in an unbalanced position. Portal Alameda could partly balance out the inequality.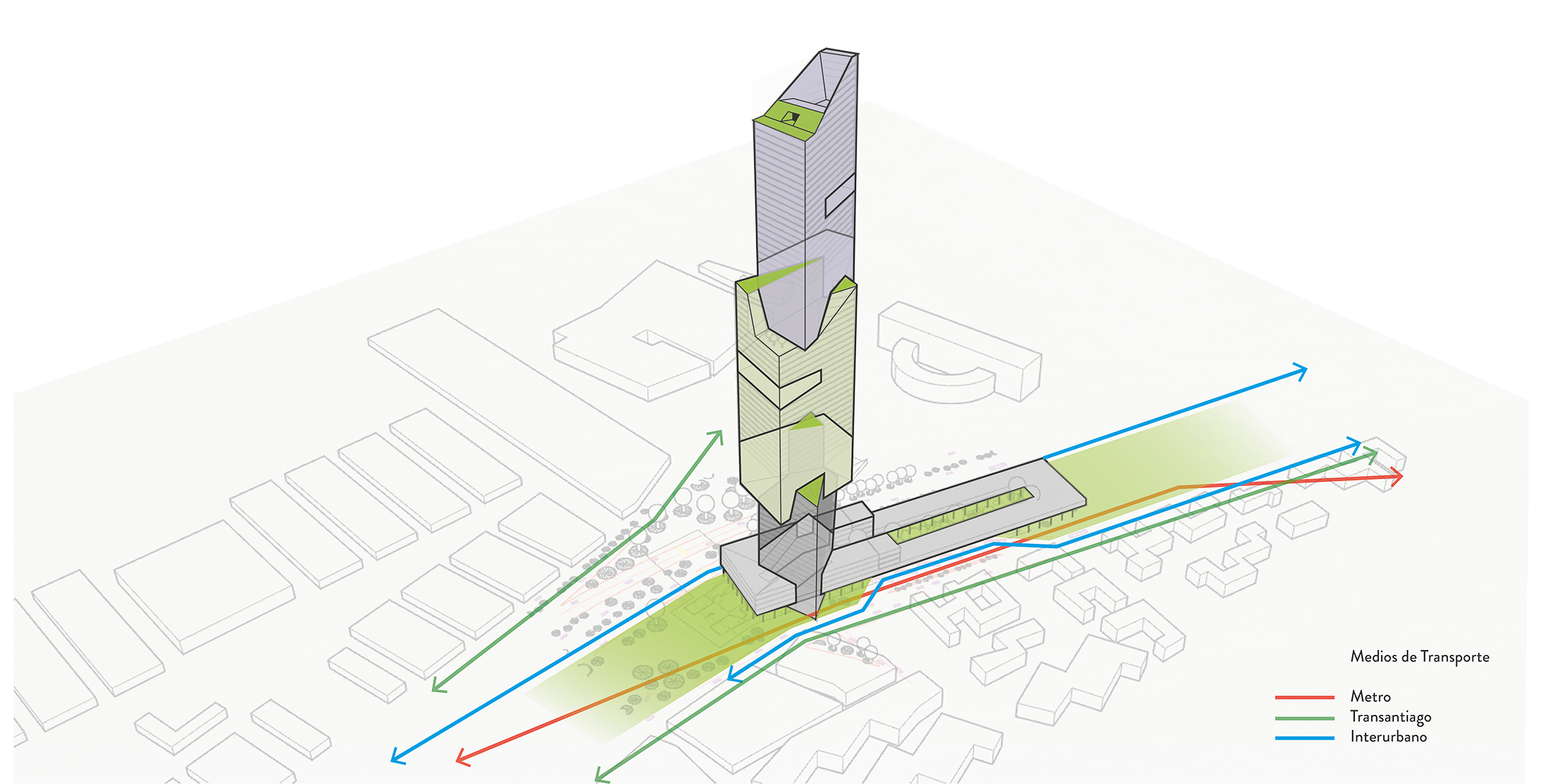 Idea

Portal Alameda contains three programs in the vertical direction − the upper hotel, the middle office and the lower recreational volume. Each one points at a different direction of one of the traffic axis. Intersections create vertical atriums and views onto central elements of the environment and city each functioning as meeting point for the adjoining programs. The former bus and subway waystation is integrated in a newly build horizontal two storey volumewhich affects the traffic connection of the skyscraper in a very positive way.